Aims and Scope
Ashraf Nabil Saleh, Raham Hasan Mostafa, Ahmad Nabil Hamdy, Amr Fouad Hafez
---
Study Objective:
The use of an easy to apply reliable tool is essential to assess pain in patients in intensive care units. This study aimed primarily to evaluate perfusion index usefulness as an objective indicator of pain.
Methods and Measurements:
Data were collected from 40 non-intubated adult patients admitted to the surgical intensive care unit postoperatively. The Masimo pulse co-oximetry perfusion index (PI) probe was attached to the patient. At the time of the first request for analgesia (T1), the Behavioural pain scale non-intubated scoring system (BPS-NI) was recorded with the PI and patients' haemodynamics following which rescue analgesia was given. Thirty minutes thereafter (T2), second measurements for the mentioned parameters were taken.
Main Results:
There was a statistically significant reduction in the BPS-NI score, blood pressure and heart rate after analgesic administration (P-values, <0.001, 0.039 and 0.001, respectively), together with a significant increase in the PI (P-value, 0.004). This means that the PI increases with adequate relief from pain, as indicated by a decrease in BPS-NI score and haemodynamics, but the correlation was not statistically significant between their changes.
Conclusion:
There was no statistically significant correlation between the PI and the pain score or other clinical indicators of pain either before or after the administration of analgesic.
---
November 20, 2020
Wafaa T Salem, Khaled A Alsamahy, Wael A Ibrahim, Abear S Alsaed, Mohamed M Salaheldin
---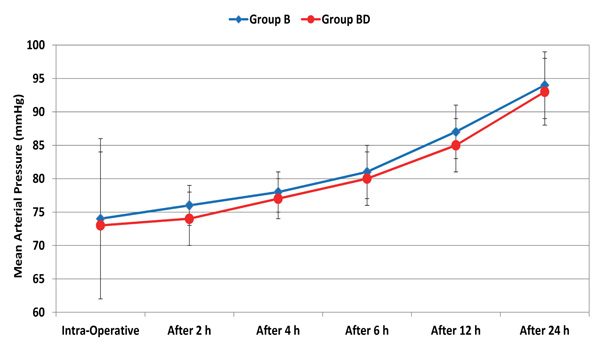 Background:
Extended midline laparotomy incision is accompanied by intense pain postoperatively which affects patients' physiology; therefore, good control of postoperative pain is mandatory to decrease the adverse effects on the body. Ultrasound-guided Bilateral Rectus Sheath Block (BRSB) is one of the options to achieve this goal.
Objective:
The study aimed to assess the analgesic potency of adding dexmedetomidine to bupivacaine in ultrasound-guided BRSB in cancer patients with a midline laparotomy incision.
Methods:
Sixty adult cancer patients planned for laparotomies with extended midline incision were included. Ultrasound-guided BRSB was performed immediately after the induction of anesthesia.
Patients were classified randomly into two groups; B group, where only bupivacaine was used for BRSB and BD group in whom a mixture of bupivacaine and dexmedetomidine was used.
Results:
A significant decrease in visual analogue scale scores, total morphine consumption, postoperative nausea and vomiting and postoperative cortisol levels was observed in group BD.
Conclusion:
Dexmedetomidine as an adjuvant to bupivacaine in US-guided rectus sheath block bilaterally proved to be effective for proper pain management postoperatively in cancer patients after extended midline abdominal incision.
---
April 30, 2019