Aims and Scope
Tamer N. Abdelrahman, Rasha G. Abu-Sinna
---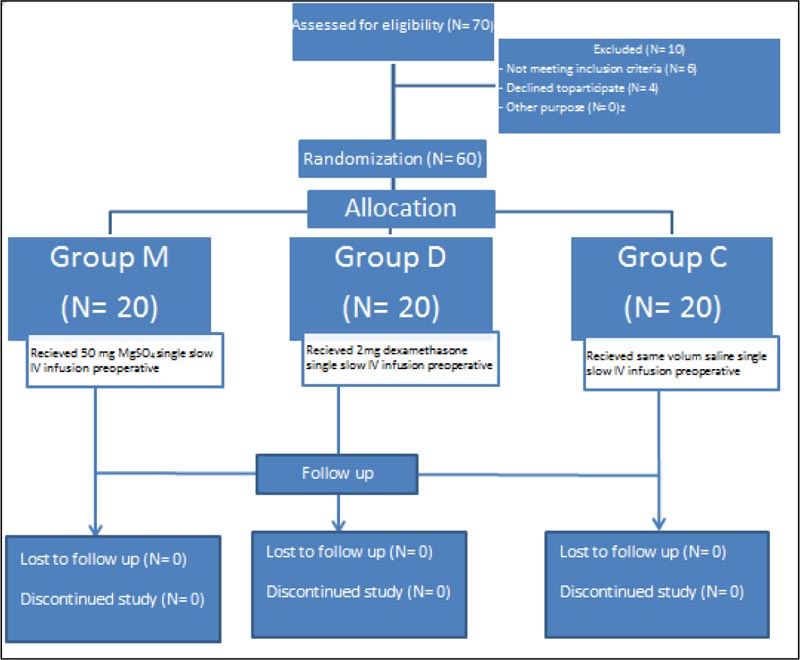 Introduction:
The TAP block is a regional anesthetic technique, which blocks neural afferents between T6 and L1, which provide anterior abdominal walls and therefore help to alleviate postoperative pain.
Aim:
The aim is to compare the efficacy of preoperative single low dose of intravenous MgSO4 versus intravenous dexamethasone as adjuvants to ultrasound guided TAP block for prolongation of postcesaren analgesia.
Materials and Methods:
A total 60 pregnant females were selected undergoing elective caesarean sections under general anesthesia with ultrasound-guided transversus abdominis plane (TAP) block done at the end of surgery. Patients were randomly and equally allocated into three groups of 20 patients each. The first group of patients were classified as magnesium sulphate group (M)who received 50 mg/Kg IV, the second group of patients were classified as dexamethasone group (D) who received 2 mg IV and the third group was classified as the placebo group (C) who received IV saline.
Results:
Comparison of the VAS at 6 and 12 hours postoperatively showed statistically significantly lower values in group (M) and group (D) compared to group (C) and also group (M) was significantly lower than group (D) as well. The time interval until first rescue analgesia (Nalbuphine) needed by the patients (VAS ≥ 50) was significantly longer in group (M) compared to group (D) and group (C) consecutively. Additionally, it was significantly longer in group (D) than in the control group(C). The total dose of rescue analgesia consumed during the first 24 hours postoperatively was significantly lower in groups (M) than in group (D) and both groups showed lesser doses compared to group (C)
Conclusion:
We concluded that both MgSO4 and dexamethasone could prolong the postoperative duration and analgesic efficiency provided by the TAP block in cesarean sections. This further reduced the demands for postoperative rescue analgesia, with MgSO4 found to be more efficient than IV dexamethasone.
Clinical Trial Registration Number: NCT04223128
---
April 28, 2021
Palak Arora, Jesni Joseph, Madhusudan Upadya, Sonal Bhat
---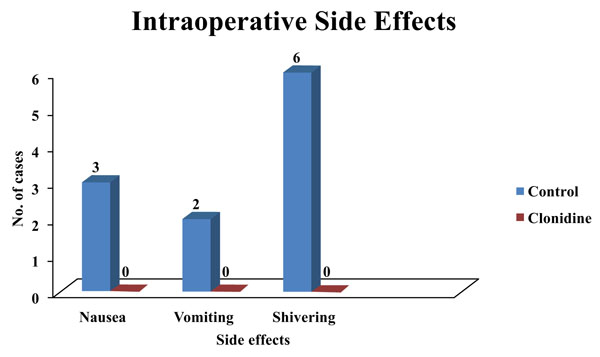 Background:
Acute pain leads to adverse physiological and psychological disturbances. Hence, this study was done to evaluate and compare the onset and duration of sensory anesthesia, motor paralysis and duration of analgesia using 0.5% plain bupivacaine, with clonidine (2μg/kg) in patients posted for lower abdominal and lower limb surgeries under epidural anaesthesia.
Materials and methods:
62 Patients posted for elective lower abdominal, gynaecological and lower limb surgeries under epidural anesthesia, aged 18 to 60 years, height more than 150 cms of ASA physical status 1 or 2 were included. All patients were randomized into two groups of 31 individuals each.
Results:
Clonidine in the dose of 2μg/kg added to bupivacaine injected into epidural space significantly prolonged the duration of analgesia when compared to bupivacaine alone. No effect on the onset of sensory and motor blockade was observed. However, it increases the duration of motor blockade. Clonidine also has effect on sedation level, pulse rate and mean arterial blood pressure.
Conclusion:
Clonidine causes increased sedation; fall in pulse rate and mean arterial blood pressure, which however, did not require active intervention in this study.
---
February 14, 2020