Aims and Scope
Palak Arora, Jesni Joseph, Madhusudan Upadya, Sonal Bhat
---
Background:
Acute pain leads to adverse physiological and psychological disturbances. Hence, this study was done to evaluate and compare the onset and duration of sensory anesthesia, motor paralysis and duration of analgesia using 0.5% plain bupivacaine, with clonidine (2μg/kg) in patients posted for lower abdominal and lower limb surgeries under epidural anaesthesia.
Materials and methods:
62 Patients posted for elective lower abdominal, gynaecological and lower limb surgeries under epidural anesthesia, aged 18 to 60 years, height more than 150 cms of ASA physical status 1 or 2 were included. All patients were randomized into two groups of 31 individuals each.
Results:
Clonidine in the dose of 2μg/kg added to bupivacaine injected into epidural space significantly prolonged the duration of analgesia when compared to bupivacaine alone. No effect on the onset of sensory and motor blockade was observed. However, it increases the duration of motor blockade. Clonidine also has effect on sedation level, pulse rate and mean arterial blood pressure.
Conclusion:
Clonidine causes increased sedation; fall in pulse rate and mean arterial blood pressure, which however, did not require active intervention in this study.
---
February 14, 2020
Wafaa T Salem, Khaled A Alsamahy, Wael A Ibrahim, Abear S Alsaed, Mohamed M Salaheldin
---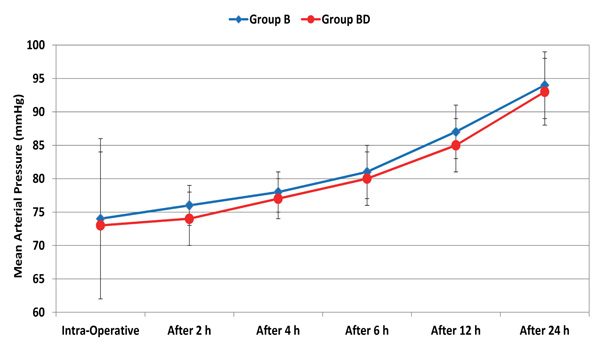 Background:
Extended midline laparotomy incision is accompanied by intense pain postoperatively which affects patients' physiology; therefore, good control of postoperative pain is mandatory to decrease the adverse effects on the body. Ultrasound-guided Bilateral Rectus Sheath Block (BRSB) is one of the options to achieve this goal.
Objective:
The study aimed to assess the analgesic potency of adding dexmedetomidine to bupivacaine in ultrasound-guided BRSB in cancer patients with a midline laparotomy incision.
Methods:
Sixty adult cancer patients planned for laparotomies with extended midline incision were included. Ultrasound-guided BRSB was performed immediately after the induction of anesthesia.
Patients were classified randomly into two groups; B group, where only bupivacaine was used for BRSB and BD group in whom a mixture of bupivacaine and dexmedetomidine was used.
Results:
A significant decrease in visual analogue scale scores, total morphine consumption, postoperative nausea and vomiting and postoperative cortisol levels was observed in group BD.
Conclusion:
Dexmedetomidine as an adjuvant to bupivacaine in US-guided rectus sheath block bilaterally proved to be effective for proper pain management postoperatively in cancer patients after extended midline abdominal incision.
---
April 30, 2019