Aims and Scope
Lachlan J. Gan, Gavin Sullivan
---
The environmental superiority of Total Intravenous Anaesthesia (TIVA) compared to inhaled agents has been recognised by ANZCA in a 2019 statement. Yet what about cost? Little current data has been published on this topic. We conducted a cost analysis and audit of propofol use in 71 endoscopy cases (colonoscopy/gastroscopy), taking into account the cost of adjuncts (syringes, tubing, and discarded propofol). We then compared these to calculated costs of the same cases performed with sevoflurane anaesthesia. In terms of the agent, propofol was 35% cheaper, costing $1.60 for an average endoscopy compared to a sevoflurane cost of $2.46. Including the cost of adjuncts (including a laryngeal mask airway for sevoflurane anaesthesia), endoscopy cases with propofol infusions were 80% cheaper than the same case performed under sevoflurane general anaesthesia ($3.08 vs $15.48). Although pricing may vary from hospital to hospital, our data suggests choosing propofol costs less in endoscopy.
---
March 10, 2021
Palak Arora, Jesni Joseph, Madhusudan Upadya, Sonal Bhat
---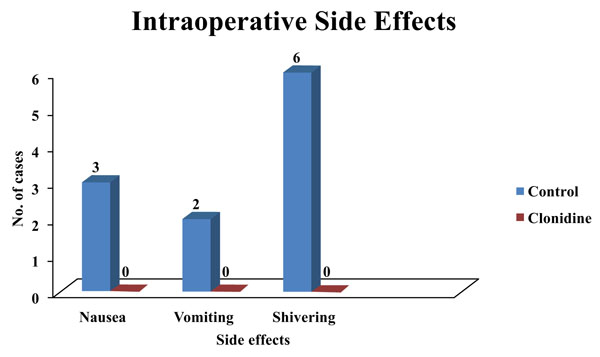 Background:
Acute pain leads to adverse physiological and psychological disturbances. Hence, this study was done to evaluate and compare the onset and duration of sensory anesthesia, motor paralysis and duration of analgesia using 0.5% plain bupivacaine, with clonidine (2μg/kg) in patients posted for lower abdominal and lower limb surgeries under epidural anaesthesia.
Materials and methods:
62 Patients posted for elective lower abdominal, gynaecological and lower limb surgeries under epidural anesthesia, aged 18 to 60 years, height more than 150 cms of ASA physical status 1 or 2 were included. All patients were randomized into two groups of 31 individuals each.
Results:
Clonidine in the dose of 2μg/kg added to bupivacaine injected into epidural space significantly prolonged the duration of analgesia when compared to bupivacaine alone. No effect on the onset of sensory and motor blockade was observed. However, it increases the duration of motor blockade. Clonidine also has effect on sedation level, pulse rate and mean arterial blood pressure.
Conclusion:
Clonidine causes increased sedation; fall in pulse rate and mean arterial blood pressure, which however, did not require active intervention in this study.
---
February 14, 2020